A Walk Back in Time
The Conococheague Institute is a hands-on regional learning center. We are headquartered within Rock Hill Farm, a well-preserved historic farmstead that was established in the early 18th century in southern Franklin County, Pennsylvania, near the village of Welsh Run. Our 30-acre site is listed on the National Register of Historic Places and includes two historic house museums with outbuildings, a research library, two relocated historic log structures, walking trails with access to a pioneer cemetery, and several historic gardens.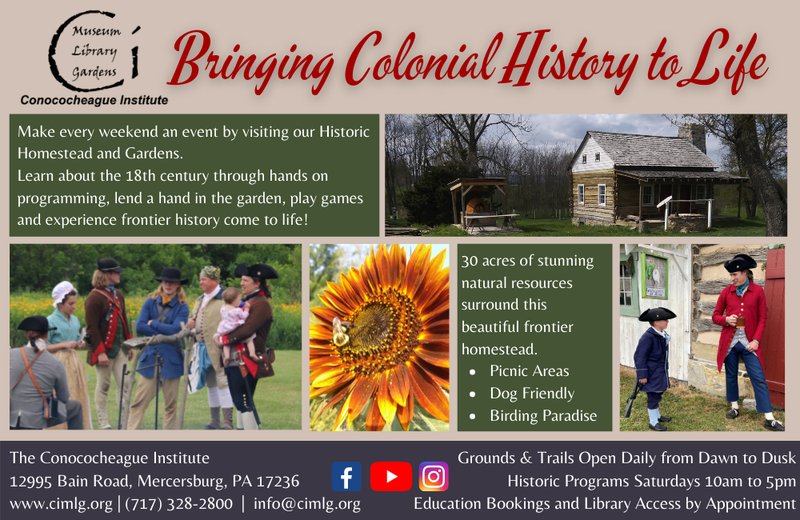 Our Mission
The mission of the Conococheague Institute is to develop and foster awareness, understanding, and stewardship of the cultural and natural history of the Appalachian frontier of Pennsylvania, Maryland, and Virginia. The Institute strives to achieve its mission through education, research, and preservation.
___________
The name 'Conococheague Institute' symbolizes our focus on the early 18th Century, when the area was referred to as the Conococheague Settlement, (from the important waterway that gave the region its identity).
Throughout the centuries it has been spelled Canigotschik, Conecocheague, Conegocheek, Conegocheige, Conegochiegh, Conegoge, Conegogee, Conegogeek, Conigochego, Conigotoschick, Conijachola, Connatachequa, Connogocheague, Conocochego, Cunnaquachegue, Cunnatachegue, Cunnatichegue, and Guneukitschik.
In the Lenape language it is translated as 'Water of many turns' and it is phonetically pronounced as 'KAH-no-KAH-cheek'.
From 16,000 B.C.E to the 1700's C.E the land was inhabited by Susquehannoks, Shawnees, Lenni Lenape (Delawares) and tribes that made up the Six Nations (Iroquois). Numerous archaeology finds have shown extensive evidence of this rich cultural heritage, as the area was primarily a hunting and transportation corridor for tribes moving north and south.
Enjoying the Conococheague Institute Today
Now is a great time to visit the Conococheague Institute. With over 30 acres of a remote rural landscape, you can escape the crowds and enjoy nature's beauty. For Birding enthusiasts, our viewing platform over our wetlands area contains a wealth of healthy bird species from Redwing Blackbirds to our more extravagant Peacocks.
Our Grounds are dog friendly, so enjoy walking your furry friend around our Cemetery Trail Loop (which crosses the Welsh Run three times), or enjoy the shade under our tree line walk.
Nature never takes a break, so check out the flowers in bloom throughout the grounds, or smell the herbs in our Kitchen Garden.
Even when the buildings are closed, History doesn't stop! We now have walking tours and information packets at dispensers near the Visitor Center and our Interpretive Wayside panels give a rich history of the Buildings and their story.
For those currently unable to visit, we have been producing virtual programs and adding them to YouTube. Check them out at Colonial Living at the Conococheague Institute.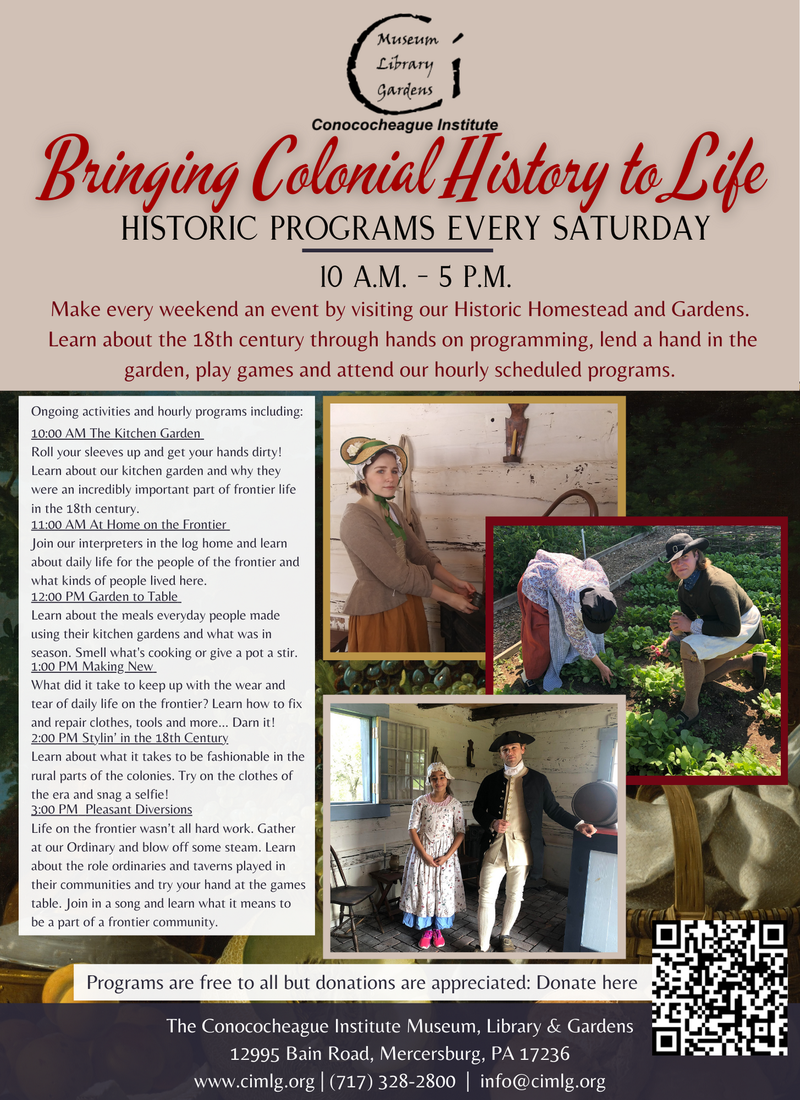 Join us EVERY Saturday Year Round for the following programs on the hour:
10:00 AM
The Kitchen Garden
Roll your sleeves up and get your hands dirty! Learn about our kitchen garden and why they were an incredibly important part of frontier life in the 18th century. Lend a hand to our historic gardener by fetching water from our well, pulling weeds, picking fresh produce and smelling herbs that will be perfect for any cook in the kitchen! Your hard work may be rewarded with fresh seasonal produce. In the winter, there is still plenty of work to be done!
11:00 AM
At Home on the Frontier
Home is where you make it and for people on the Pennsylvania frontier those homes were made of logs. Join our interpreters in the log home and learn about daily life for the people of the frontier and what kinds of people lived here. Help out around the home by grabbing a broom, polishing our metals, or BEATING the dirt out of some soiled linens. There is much to do and many hands make quick work!
12:00 PM
Garden to Table
In the 18th century, people ate with the seasons. Learn about the meals everyday people made using their kitchen gardens and what was in season. Smell what we have cooking or give the kettle a stir. How would you like cooking a meal in a smoky hearth over a hot fire?
1:00 PM
Making New
Tools break and clothes tear, but this doesn't mean they are thrown out. In the 18th century many would have had the skills to keep their belongings in good order. Join our interpreters in learning some hands on skills whether that be darning, sewing, mending, repairing or rebuilding. What did it take to keep up with the wear and tear of daily life on the frontier.
2:00 PM
Stylin' in the 18th Century
The settlers of the frontier may have been thousands of miles from the fashions of London or Paris, but that doesn't mean they didn't have style. Learn about what it takes to be fashionable in the rural parts of the colonies. Try on the clothes of the era and snag a selfie!
3:00 PM
Pleasant Diversions
Life on the frontier wasn't all hard work. Gather at our Ordinary and blow off some steam. Learn about the role ordinaries and taverns played in their communities and try your hand at the games table. Join in a song and learn what it means to be a part of a frontier community.
Announcements

Latest News from CI
Saturday 5th November: Bonfire Night 12pm to 8pm
Experience a special evening under the stars as we celebrate Bonfire Night
Learn about the history of the event with Guy Fawkes, engage in Tavern song and dance, games and festivities, food and drink, all culminating in an evening Bonfire program that is not to be missed!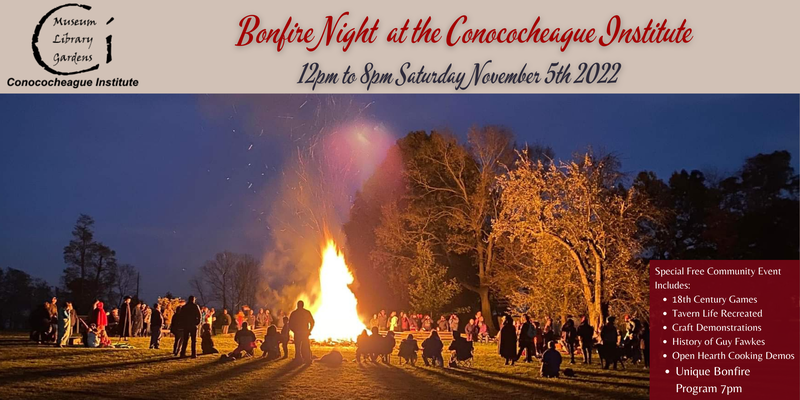 September 2022 Pioneer Times is Out Now! Read it here...
Interested in learning more about the recent happenings at CI? One of the Membership Perks is our insider Quarterly Newsletter "The Pioneer Times". The latest issue is filled with exciting updates from June to September which include our Militia Event, Harvest Faire and Fall Frolic, Conservation efforts, Donations, Invitation to our Annual Meeting and scores of wonderful photos of The Conococheague Institute serving the community. Start reading!
You can read old issues below too.
Or find out what happened in 2021 be read by clicking on these links.
Americana Corner Grant Program Supports CI's Educational Programming!
The Conococheague Institute is proud to announce that we've been selected as a 2022 @AmericanaCorner Grant Program recipient! The program was established to assist non-profit organizations like us in the telling of the incredible story of America from its founding era through its first century as a nation.
This funding will support our educational and interpretive programs on Frontier life of early Americans! Americana Corner also regularly posts blogs and videos on America's founding, a great resource for online learning.
Visit americanacorner.com for details. #americancornergrants

Save the Date - Events, Programs, and Lectures
Historic Programs in the Cabin and Gardens every Saturday year round
Every Saturday join our staff in the Historic areas of CI for some hands on programs. With a focus on daily life in the 18th Century, you're sure to learn something new every time.
Join us EVERY Saturday for hourly programs
Looking for a Free Outdoor Activity to do with your Family?
Stop by the porch of the Visitor Center where boxes contain Children's 'Explorer' activity packs. This free activity pack is a great way for families with young children to enjoy History and Nature at CI. You can even download and print it off at home and bring it with you next time you visit!
For more information on upcoming events, become a Member and sign up for our email newsletters.
To stay up to date on the progress here at the Conococheague Institute, make sure to follow our Facebook page...or stop by and see the progress yourself!
Our Facebook Feed