A Walk Back in Time
The Conococheague Institute is a hands-on regional learning center. We are headquartered within Rock Hill Farm, a well-preserved historic farmstead that was established in the early 18th century in southern Franklin County, Pennsylvania, near the village of Welsh Run. Our 30-acre site is listed on the National Register of Historic Places and includes two historic house museums with outbuildings, a research library, two relocated historic log structures, walking trails with access to a pioneer cemetery, and several historic gardens.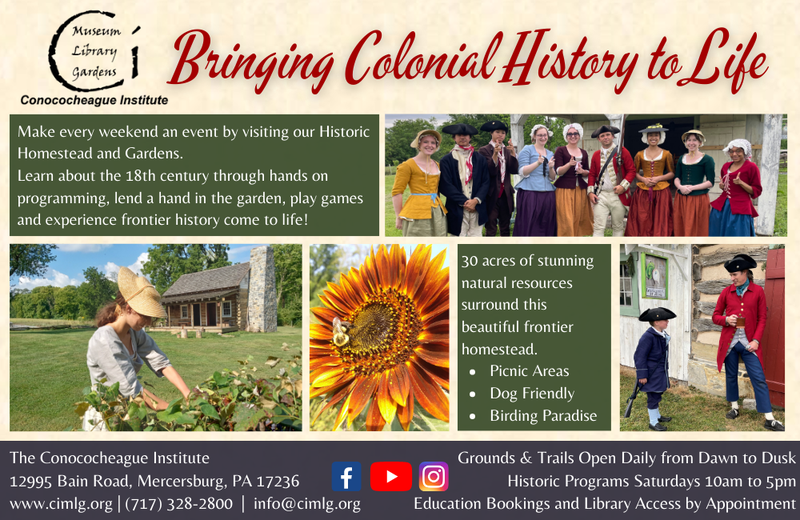 Our Mission
The mission of the Conococheague Institute is to develop and foster awareness, understanding, and stewardship of the cultural and natural history of the Appalachian frontier of Pennsylvania, Maryland, and Virginia. The Institute strives to achieve its mission through education, research, and preservation.
___________
The name 'Conococheague Institute' symbolizes our focus on the early 18th Century, when the area was referred to as the Conococheague Settlement, (from the important waterway that gave the region its identity).
Throughout the centuries it has been spelled Canigotschik, Conecocheague, Conegocheek, Conegocheige, Conegochiegh, Conegoge, Conegogee, Conegogeek, Conigochego, Conigotoschick, Conijachola, Connatachequa, Connogocheague, Conocochego, Cunnaquachegue, Cunnatachegue, Cunnatichegue, and Guneukitschik.
In the Lenape language it is translated as 'Water of many turns' and it is phonetically pronounced as 'KAH-no-KAH-cheek'.
From 16,000 B.C.E to the 1700's C.E the land was inhabited by Susquehannoks, Shawnees, Lenni Lenape (Delawares) and tribes that made up the Six Nations (Iroquois). Numerous archaeology finds have shown extensive evidence of this rich cultural heritage, as the area was primarily a hunting and transportation corridor for tribes moving north and south.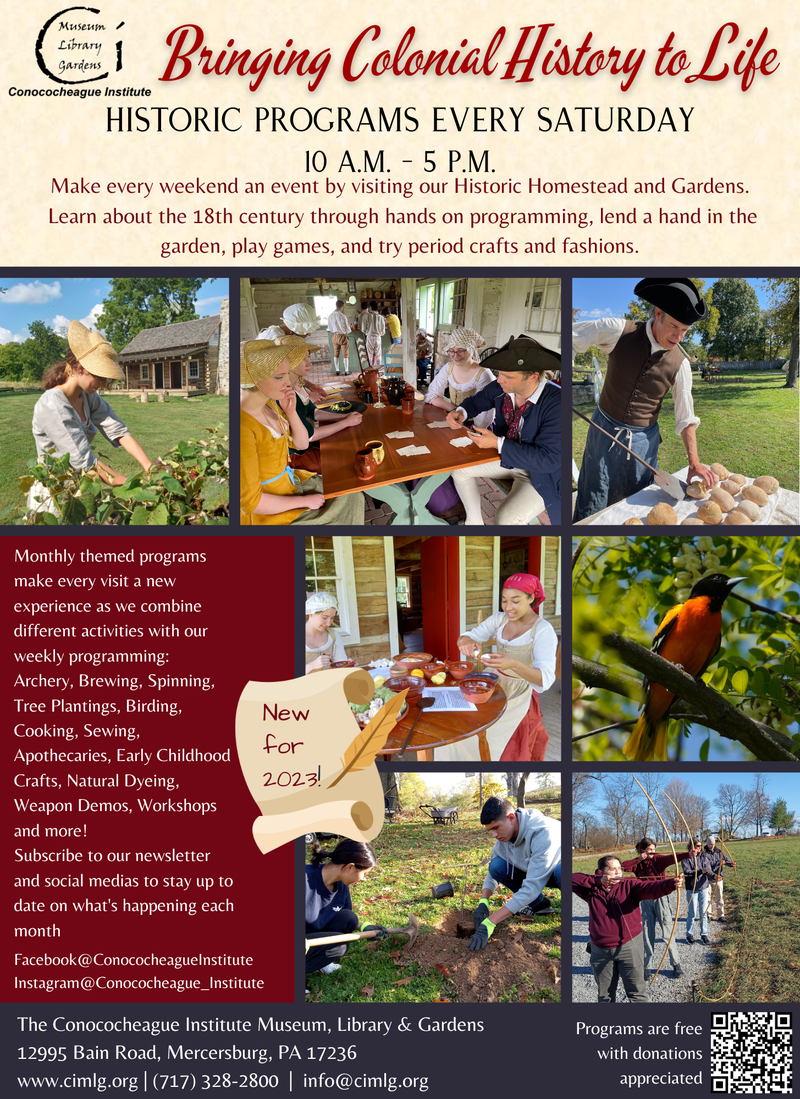 Enjoying the Conococheague Institute Today
Now is a great time to visit the Conococheague Institute. With over 30 acres of a remote rural landscape, you can escape the crowds and enjoy nature's beauty. For Birding enthusiasts, our viewing platform over our wetlands area contains a wealth of healthy bird species from Redwing Blackbirds to our more extravagant Peacocks.
Our Grounds are dog friendly, so enjoy walking your furry friend around our Cemetery Trail Loop (which crosses the Welsh Run three times), or enjoy the shade under our tree line walk.
Nature never takes a break, so check out the flowers in bloom throughout the grounds, or smell the herbs in our Kitchen Garden.
Book an educational program, or visit during our Saturday programming from 10am to 5pm YEAR ROUND.
Even when the buildings are closed, History doesn't stop! We now have walking tours and information packets at dispensers near the Visitor Center and our Interpretive Wayside panels give a rich history of the Buildings and their story.
For those currently unable to visit, we have been producing virtual programs and adding them to YouTube. Check them out at Colonial Living at the Conococheague Institute.
May Programs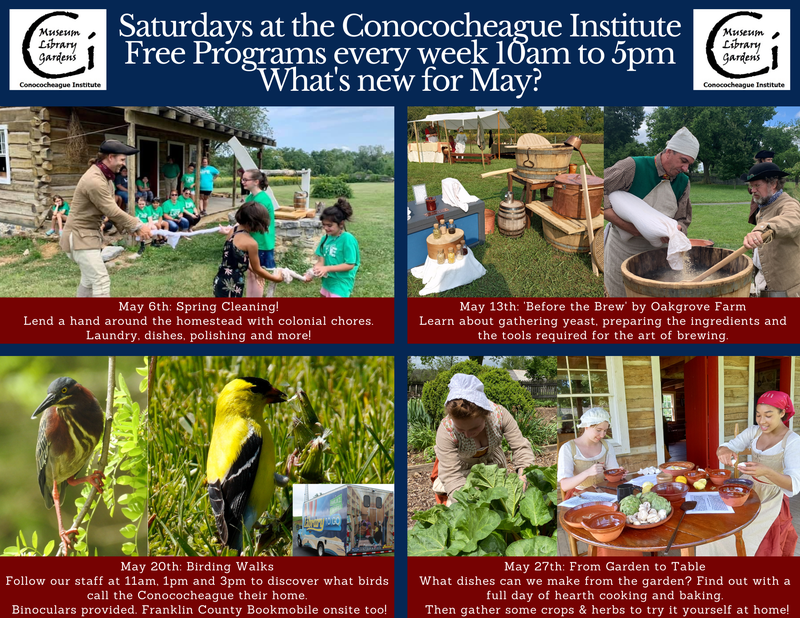 We have another exciting month planned with our free Saturday programs for May.
We're starting off on May 6th with a 'Spring Cleaning' day. If your kids hate their chores at home, we'll convince them that the colonial equivalents were much harder (but also how to have fun doing them). Boiling laundry, polishing coppers with brick dust, scrubbing windows with vinegar and more.


On May 13th, Oakgrove Farm will present 'Before the Brew' at the tavern, showing all the prep work that is needed to make good beer, from gathering yeast to making the malt.


To celebrate all the birds that are currently in the region, on May 20th our staff will be leading birding walks at 11am, 1pm and 3pm. We have dozens of binoculars available for first time birders, and the Franklin County Bookmobile will be onsite too.


Finally on May 27th we'll be presenting 'From Garden to Table' challenging ourselves and the public to recreate historic dishes using what's available in the garden at the time, and having visitors gather produce and herbs that they can then try at home themselves.


Free historic programs at CI every Saturday year round! Of course every Saturday, the gift shop, exhibits and bathrooms are also open from 10am to 5pm. See you soon.

Announcements

Latest News from CI
PA Museums Institutional Achievement launches 2023 Spring Giving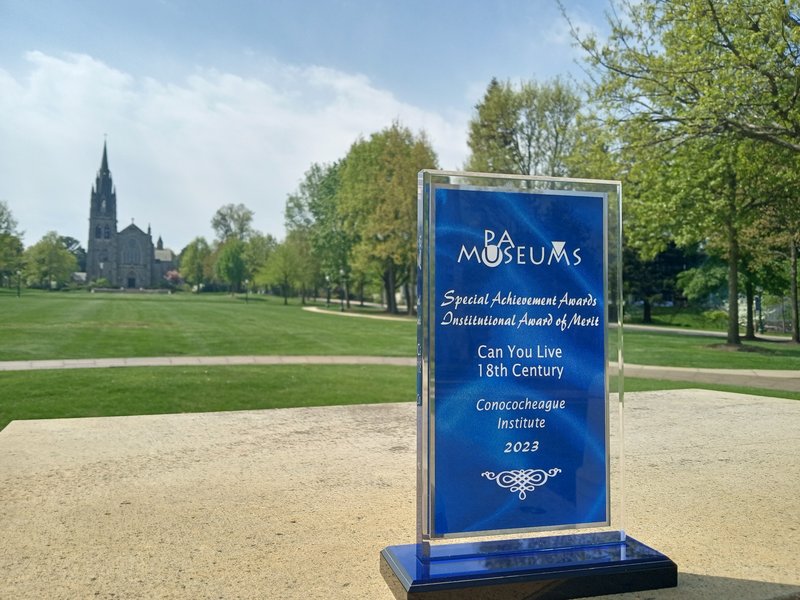 We are excited to share that our 'Can you Live 18th Century' program in partnership with Mercersburg Academy, was awarded a PA Museums Institutional Achievement award.
We were commended for the revolutionary nature of the program, the inclusiveness of bringing young teens in touch with history, and the impact it made on our organization both financially and in terms of public awareness. It was a school day so the students couldn't attend but this award equally belongs to them for making the program so much fun, and to the donor who endowed the program, Robert Kurtz Jr.
This award was of special note as other winners included big names like the Museum of the American Revolution and the Senator John Heinz History Center. These organizations have million dollar budgets, so to be ranked among them in terms of programming is a great honor. 

PA Museums has a long history of advocating for museums and the history field, and we appreciate them for bringing our community together for these awards.
Thank you to everyone who has supported us in these last few years! With this award on the back of the recent TACC Not for Profit of the Year, it makes the perfect time to launch our 2023 Spring Giving Annual Appeal.
You too can celebrate with us by making a tax deductible donation. 
Head to https://cimlg.org/support-ci/donate/ to learn more!
Americana Corner Preserving America Grant Program Enables New Exhibits and Educational Programs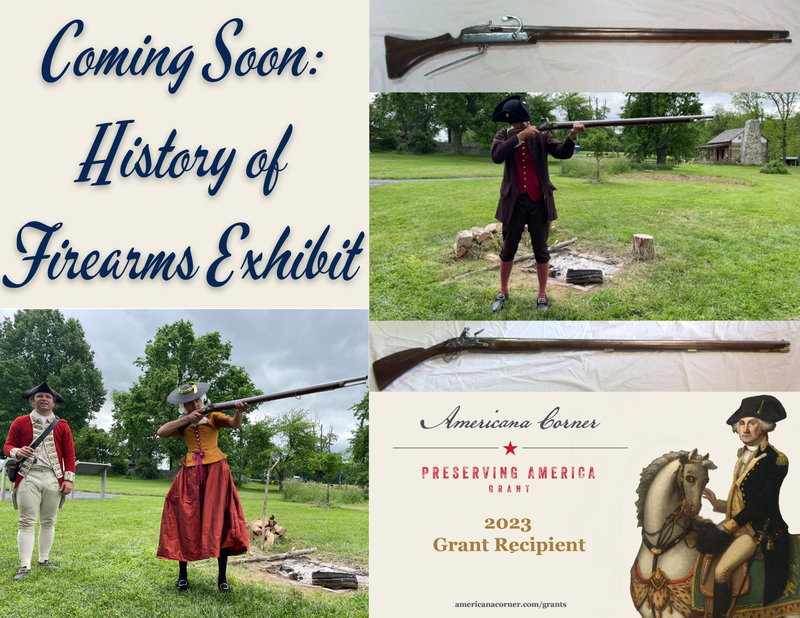 In 2022 we were among the Inaugural recipients of the Americana Corner grant program which greatly helped in expanding our education programs.
The Conococheague Institute is is proud to announce that we've been selected again for the 2023 @AmericanaCorner Preserving America Grant Program!
The program was established to assist non-profit organizations like us in the telling of the incredible story of America from its founding era through its first century as a nation.
We'll be going in further this year, using it to support our educational programs and offer in-school opportunities, but also installing a brand new exhibit on the history of firearms, and acquiring new historic gardening tools that will mean more students hands on in the garden during every program. Which of course in turn means more tasty crops that we can give back to the community. Truly the gift that keeps on giving.
Our sincerest thanks to Tom Hand of AC for his generosity in supporting so many wonderful organizations that instill a  "love of country" – the Amor Patriae – in our communities.
Visit americanacorner.com for details. #americancornergrants

Franklin County IMPACT! Grant Program Supports CI's Outdoor Spaces!
We are pleased to share the news that CI was awarded a $70,000 grant through the Franklin County IMPACT! Grant Program.
With this funding, CI] will being improving our outdoor spaces for the community including new picnic areas, bike rakes, children's learning play area and equipment.
Funding through Franklin County's IMPACT! Grant Program was available to nonprofit organizations, municipalities and municipal authorities located within Franklin County to support local recovery efforts in the wake of the COVID-19 pandemic. The Franklin County Commissioners distributed grants for 127 projects across Franklin County.
The IMPACT! Grant Program was made possible through the federal American Rescue Plan Act (ARPA).
We are grateful to the Franklin County Commissioners for this grant and for supporting our project.

2022 Annual Members Meeting Recap
We're happy to report a great turnout for the 2022 Annual Members Meeting held at CI on October 8th. All 4 new Board Nominees were approved and voted in by the membership, and a year in review showed all the great highlights from the last 12 months. Welcome Matt Baer, Bailey Roberts Long, JD Bennett and Gina Vitale to our Board Leadership!
March 2023 Pioneer Times is Out Now! Read it here...
Interested in learning more about the recent happenings at CI? One of the Membership Perks is our insider Quarterly Newsletter "The Pioneer Times". The latest issue shows why there is no "off-season" for the Conococheague Institute. Grants, Programs, Events, New Exhibits and generous donations have kept CI buzzing. Start Reading now!
You can read old issues below too.
Save the Date - Events, Programs, and Lectures
Historic Programs in the Cabin and Gardens every Saturday year round
Every Saturday join our staff in the Historic areas of CI for some hands on programs. With a focus on daily life in the 18th Century, you're sure to learn something new every time.
Looking for a Free Outdoor Activity to do with your Family?
Stop by the porch of the Visitor Center where boxes contain Children's 'Explorer' activity packs. This free activity pack is a great way for families with young children to enjoy History and Nature at CI. You can even download and print it off at home and bring it with you next time you visit!
For more information on upcoming events, become a Member and sign up for our email newsletters.
To stay up to date on the progress here at the Conococheague Institute, make sure to follow our Facebook page...or stop by and see the progress yourself!
Our Facebook Feed